Photo Gallery
Click on the Railroad name or the picture to see more pictures or a video
---
The entire layout is a 50 x 60 ft. modular display. It is most often set up at Great Train Expo, held annually in January at the Expo Center in Portland. It has double track main lines with two bridges, one of which was added in 2011 as a 6' lift bridge based on one of the bridges in Portland. The link above has a video of the test of lift mechanism.
---
See the 2015 Summer Tour Garden Time newsclip for this railroad at https://www.youtube.com/embed/QR2umQL60ss.
Engineer: Tom Gaps
Scale: 1:20.3 (Fn3)
Power: Battery and steam
This layout was featured in the June 2014 issue of Garden Railways Magazine. The town of Lone Pine is a mythical crew change point on the transcontinental railroad. In the late 1800s gold was discovered in the near by Lone Pine Mountains. A branch line needed to be quickly built into the mountains to service the newly established mines. This branch line initially achieves a water level grade by following the Clear Water River into the mountains. At Headache Falls, the railroad diverts from following the river but the surveyors were able to maintain the same 1% grade into the mountains by blasting a series of tunnels. Due to the rugged nature of the mountains, this branch line is limited to single track operations with occasional, short passing sidings. The town of Half Way is located part way up the mountain. It consists of a small switching yard, a freight company, and a small wood products manufacturing business, all of which help to provide additional revenue for the branch line. Continuing on past Halfway, the branch line again follows the upper reaches of the Clear Water River for a short distance before again diverting to follow a canyon further into the mountains and more tunnels. The line eventually arrives at Summit Station, located near the gold mines. A small yard was built near Summit at Windy Ridge to turn the trains around for the trip back to the town of Lone Pine.
Here's some interesting specifications regarding the construction of this layout you might find handy.
| Item | Quantity | Units |
| --- | --- | --- |
| 1-1/2" to 2" Drain Rock | 142 | Yards |
| 3/4" Crushed Rock | 36 | Yards |
| Landscape Fabric | 4,000 | sq ft |
| Small Mossy Wind Mountain Boulders | 9 | Tons |
| Iron Mtn Slate | 4 | Tons |

Item
Quantity
Units
Soil Mix
94
Yards
1/4" Crushed Rock
8
Yards
Pond Liner
500
sq ft
Hand selected Mossy Twin Creek Rock
6
Tons
Handicapped accessible.
---
See the 2015 Summer Tour Gardern Time newsclip for this railroad at https://www.youtube.com/embed/TIHTpmJ7YV8.
Engineer: Gary Lee
Scale: 1:24 (½ inch)
Power: Battery and steam
The Baker & Grande Ronde Railroad is a fictitious 1:24 scale narrow-gauge railroad that connects with the Sumpter Valley Railroad at its terminus in Baker City, Oregon. Circa 1890, at the glory days of mining and lumbering in the Oregon Blue Mountains, this small railroad ambitiously crossed the Elkhorn Range to reach its western destination of Ukiah. The 1:24 scale trains traverse six trestles and bridges that cross three rivers. A twenty-foot long, five-foot tall curved trestle near the summit transverses Freezeout Creek. There is 600 feet of mainline on the 175' x 60' point-to-point railroad in its 15th year of existence. The forest of dwarf Alberta Spruce are pruned to represent large mature conifers; herbs and succulent ground cover create a lush forest floor, and locally gathered rock complete the landscape. All track is hand- laid; all structures and bridges are scratch-built. Engines are battery or live steam with remote control. This is a "must see" railroad that was featured in the April, 2013, issue of Garden Railways Magazine.
No Public Restroom. Handicapped accessible.
---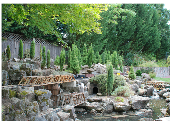 Engineer: Bill Derville
Scale: 1:24
Power: Battery, Remote Control
This 1925 layout loosely represents Northern Pacific's Coeur d'Alene branch line to Wallace Idaho and the surrounding area, which is the richest silver mining area in the world. The railroad climbs a 2 percent grade up Canyon Creek through Gem to the town of Burke, ID. To keep the grade at only 2%, engineers had to drill 3 tunnels (totaling 90 feet) through the hard rock and cross the Canyon Creek (a 50 foot river with 200 gallons per minute of white water) to reach the mining town. The 10-track classification yard in Wallace is in the middle of the layout. It has a seven stall round house, engine servicing facilities, and an ice house. Leaving Wallace, the track passes through Mullan, ID, before climbing Lookout Pass on its way to Missoula, Montana. The climb to Lookout Pass is actually off the layout. After leaving Mullan, trains move into the staging yard in the train shed where equipment is stored. (When running trains for visitors, the trains will pass through this staging yard, and come out on the Nine Mile Creek branch, returning to the Wallace Yard in a large loop for continuous running). Four passing sidings are necessary to allow trains to pass in the opposite direction on this single track layout. A logging branch line begins in Burke and leads to a logging camp where the Heisler is turned on a wye before returning with its loaded log cars destined for the lumber mill at Gem. The layout was built for operations with a dispatcher, a yard master, freight cars with waybills, and a time table for a passenger train. The layout was started in 1997 and has about 800 feet of track with 60 turnouts.
A bathroom is available. Layout is handicapped accessible.
---
Engineer: Dennis Rose
MOW: Carolyn Rose
---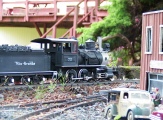 President and Chief Operating Officer: Bill Dippert
Treasurer: Jean Dippert
Scale: 1:22.5
Power: Track and Battery/RC
This narrow gauge branch represents the fictional Summit Branch of the Denver & Rio Grande Western Railroad in the late 1950s to early 1960s. The main motive power consists of a fleet of 2-6-0 steam engines, some powered by track power and others by battery. Seven towns are arranged along the 100 by 150 foot "L" shaped layout that contains 1,000 feet of track and 45 switches (turnouts as we call them). Landscaping is mostly mature, with a wide variety of plants, ranging from miniature ground cover, plants, and miniature trees to larger azaleas, rhodies, and evergreen trees.
Limited handicapped accessibility.
---
Engineer: Doug Watson
Scale: 1:29
Power: Track
Cedar Grove Railway gets its name from the small town and environs displayed on the layout.

Cedar Grove is a fictional small community situated in the Canadian Rockies on the Canadian Pacific mainline during the transition from steam to diesel power.

It was a railroad town and a centre for three local industries, namely grain, lumber and canning and was known for freights specializing in serving those industries. In addition, its location on the mainline made possible a much more regular and prestigious passenger service than its small size would warrant.

Cedar Grove Railway has about five hundred feet of stainless steel track laid in a manner that allows trains to pass and to cross over each other. The layout is track powered with separately controlled blocks, with power supplied through a 25 amp power unit, sufficient to run three long trains at once. Construction began in September 2005.
Handicap accessible.
---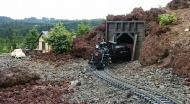 Engineers: Ron and Merlene Bacon
Scale: 1:32, 1:29, and 1:20.3
Power: Battery/RC and Live Steam
---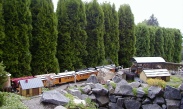 Engineer: Joe Chesney
Power: Track and Battery/RC
This large garden railroad is partly outside and partly in the basement of the home. It is one of the oldest garden railroads in our club. Entering this phenomenal scene under the Chesney home, you are confronted with a virtual stage effect as controlled lighting picks out scene after scene in this natural hillside. Off to the left a staging area is reminiscent of turn of the century railroad stations. Trains then travel outside through a hole in the wall to the outside portion of the railroad. This portion includes a water feature, a mine, and bridges. This layout is loaded with details and is a favorite of return summer tour attendees.
Handicapped accessible.
---
See the 2016 Summer Tour Garden Time newsclip for this railroad at https://www.youtube.com/embed/9nLSOb3EG4U.
Engineers: Warner and Brooke Swarner
Power: Battery and Steam, Radio Control
Fantastic use of a crawlspace and the entire front and backyard make this a very entertaining railroad.
A recent addition to the mainline now traverses two waterfalls and streams in the backyard division of the Bearspaw Southern. This garden layout has over 1300' of track, more than 100 switches, and encompasses nearly the entire residential corner lot. It can take up to 15 minutes or more for a single train to cover the entire length of the outdoor line without traveling the same track twice. This is a model of a fictional railroad connecting several imaginary Northwest towns to a region called Bearspaw. Trains are controlled via radio control by individual operators walking along with their train. Towns in different areas serve as sources and destinations for both freight and passenger operation. The railroad begins in the front yard garden with miniature trees, a logging scene and a waterfall. It winds around the side and back yards, through more mountains, under grape arbors, across two streams and ponds. Much of the backyard portion of the railroad runs in the shade of high trellised grapevines, blending agricultural function with miniature trains. The two ponds in the backyard are home to large Koi fish. After traversing the yards outside, the tracks tunnel underneath the house into what was once a basement "crawl space" that has been excavated and lined with stone. The outdoor section is open and viewable from sidewalks, garden paths as well as covered porch decks. The indoor division, although having somewhat limited access down a stairway, provides year-round railroading with scenes of towns, industries and switch-yards. The Bearspaw Southern serves as proof that large-scale railroading can be done in places other than just a garden and has something for every railroad fan.
The layout is Not handicapped accessible.
---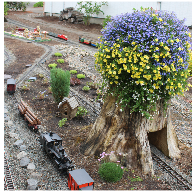 Engineers: Hal and Ellen Beighley
Camp Creek Railroad was started in 2007 under 3 large Scotch pine trees. It took less than 6 months to realize that this location was a bad idea because of the sap and lots of needles. The Grandchildren let Poppy know in no uncertain terms that the cleanup was difficult—the trees had to go in their minds. They had no idea I would take them to heart and remove the trees in the summer of 2011. The road bed was re-configured to allow one track loop to run through the biggest stump.
Opening the area up to more natural light was great for the survival of the existing plant material and the addition of Stepables (ground covers). Our neighbor installed a row of Emerald Green Arborvitae along their property line to provide an evergreen backdrop for the Camp Creek Railroad. Plant materials, like grandchildren, do grow if they are fed properly. During the spring of 2012, the existing driveway was re-configured to allow for the expansion of the railroad. We now have two closed loops. We now have a double trestle bridge that allows both trains to pass one another side by side. All together we have 390 feet of track and two spurs. A 54" tunnel was added made out of 10" diameter drain pipe. Also Camp Creek was added.
Camp Creek is a work in progress and will always be just that. Thanks for coming by this year to see what we have been up to these past couple of years.
Handicapped accessible.
---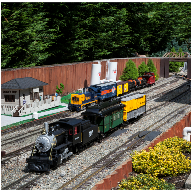 Engineers: TJ and Renee Meyer
Power: Track
The MRT&T was established in 2013 and services the McCully/Powell National Forest, the small community of Rocky Top USA, and the restored gold rush town of Canyon City.
Rocky Top is nestled in the mountains of the Pacific Northwest. At an elevation of 4516 feet, it is well known for its skiing and timber exports. It is summer 1959 and a typical day in the lives of the Rocky Top people. Located a short distance to the East is the gold rush town of Canyon City and since its restoration Canyon City has become a very popular tourist attraction that draws visitors throughout the region. Tourists are transported from Rocky Top to Canyon City by rail where horseback riding, rodeos and wild west shows keep the visitors entertained.
Construction for the MRT&T railroad began in February 2013 and consists of approximately 480 feet of brass track mounted on 2x6 lumber. The forest and logging extension was added in 2016 and is approximately 390 feet of brass track and a 60-foot fast flowing river. Mt. Rocky Top is constructed from twenty- four 4'x8' two-inch pieces of styrofoam and supports approximately 650 trees.
Track-powered trains are controlled from a central location while the battery- powered trains are remote controlled. The dispatcher handles route assignment and switch settings.
Very limited handicapped accessibility.
---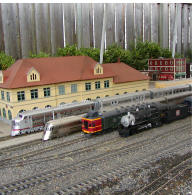 Engineers: Allan and Kathryn Warrior
Power: Track
This railroad is loosely modeled on the Creston, Iowa, Division of the Burlington Route (CB&Q) from 1935 until 1969 before it was merged into the Burlington Northern and later the BNSF railroads. The motive power is primarily 22 various diesels of the era including the Pioneer Zephyr (1935) and the last-purchased SD45 (1969). Approximately 600 feet of mainline track runs around three sides of the house and there is a large switch yard in the town of Creston. One route in the front yard crosses a 16- foot gap on a plate girder trestle and through an eight-foot truss bridge. A second route travels over a 60-foot poured concrete viaduct. Several of the 71 buildings and structures are built from scratch and are actual scale (1:32) models of buildings in Creston, especially the 1898 railroad station and auxiliary buildings. The Altoona Playland miniature amusement park is just for fun.
Wheel chair accessible with assistance.
---
Engineers: Alan and Nola Olson
Power: Track
The 200 feet of the Crooked River Railroad is set in The West, circa the 1890s, when horses are starting to give way to automobiles. It services the needs of the small town of Mapleton and its environs. This includes Brook's Mining Company which has a trestle connecting it to the Silver Lining Mine, Dyal Lumber Company, Hickory Farm, and Cascade Mill. These are inhabited by 100 to 150 people and animals. Laid out as a dog bone, the railroad crosses two bridges and passes through a tunnel. The landscape is varied, with two mountains, hills, and flatlands lush with many deciduous and evergreen trees and shrubs—some bonsai—and, of course, the 30-foot Crooked River with its waterfall, pond, and lake. Buildings are a mix of scratch-built, kits, and modified bird houses. Train engines are powered through the rails via a 10-amp power supply and are remote controlled.
Handicapped access is limited. No wheelchair access.
---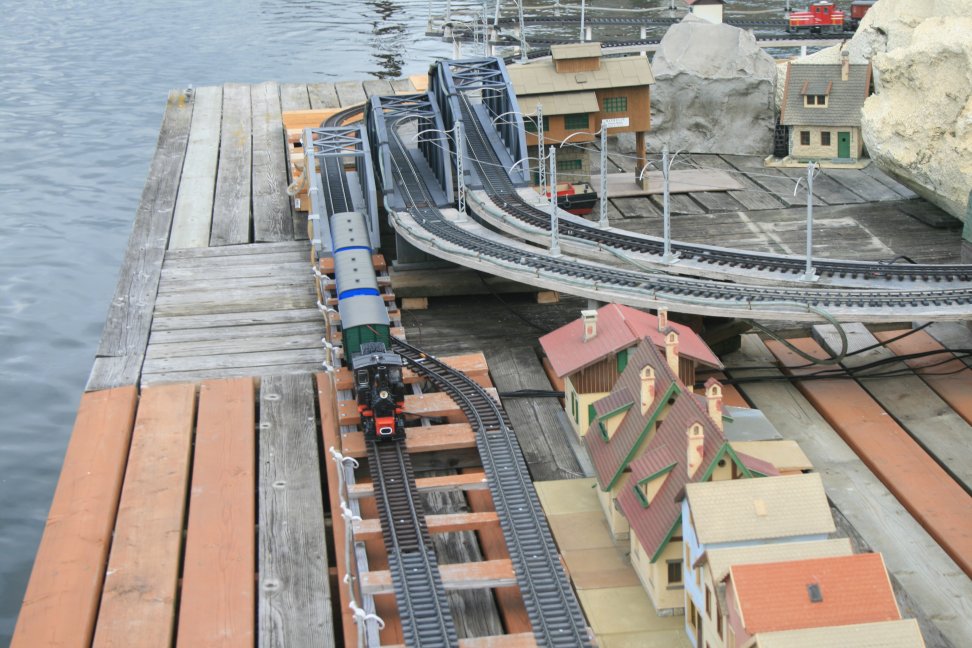 Engineers: Jan and Rae Zweerts
Power: Track
Welcome to the Swiss Flats Railway (SF Ry.) a small Pike with a huge water feature. The SF Ry. can be multi-modal with short headways, intense rail traffic, 2 major junctions using air drive switches with up to 4 train operators fighting over the right-of-way controlled by 1 harried dispatcher. Or the SF Ry. can have 3 trains loop lazily each in its own circle of solitude. Or 1 train can traverse all 3 loops which is very handy for cleaning track.
The SF Ry. is loosely based on travels in Switzerland on the Rh B and other narrow gauge railways. Steam, diesel and electric motors may be seen negotiating European close quarters scenery with mountainous grades and overhead catenary.
The SF Ry. is built upon a 16' x 48' float attached to a member's floating home on the Columbia River at North Portland Harbor. All manner of transportation may be seen here as the SF Ry. is within sight of the BNSF swing bridge (MP 8.8 Fallbridge Sub), I-5 Road Bridge with historical ships moored across the channel.
Visiting the SF Ry. will require parking inside the Jantzen Beach Moorage (JBMI) gated community, walking down a 20% grade ramp, and along 800 feet of floating walkways. Please wear comfortable shoes, secure your car keys, cell phones and other valuables because the water is deep and divers are not standing by.
---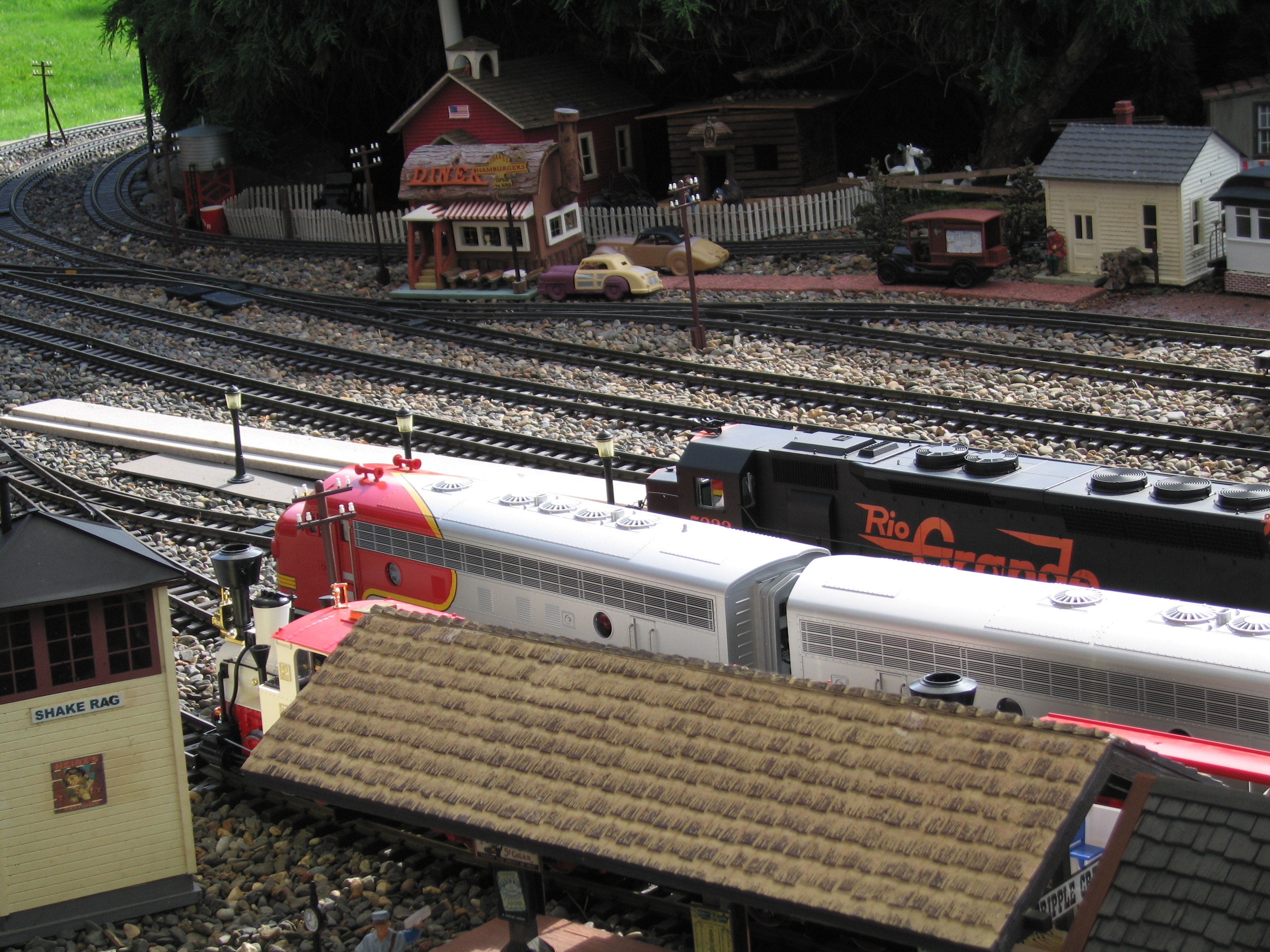 Engineers: Jeff and Dianne Lange
Power: Track, Battery, Steam
The newly rebuilt Lake View and Boulder Railway in the NW neighborhood of Vancouver, Washington, has just that; a good view of Vancouver Lake and the railroad is surrounded by small boulders. It is made up of approximately 800 feet of single mainline track with sidings. The mainline is built around the perimeter of a large back yard just inside of a large privacy fence and adjoining arborvitae hedge. The south end of the layout crosses three steel bridges as it begins a long 3% climb up to the summit along the southern property line. It then returns back down a steep grade to the lower, level portions of the layout. At normal speeds, it takes almost 3 minutes for the trains to make a complete circuit. As many as 4 to 5 trains can run at the same time, providing that many operators are on duty. The layout is track, battery and steam powered. The owners enjoy running long mainline diesel freight and passenger trains, but also have a large collection of steam engines which run alongside their more recent counterparts from time to time. The 5 operating indoor layouts in the owner's shop represent all scales, from the smaller Z, to the largest of the scales, including N, HO, O, and G scales.
Handicapped accessible.
---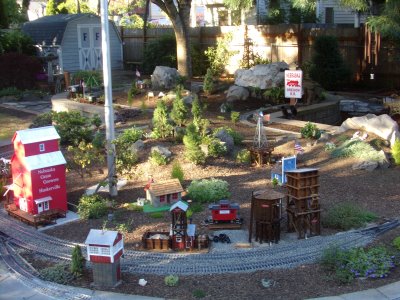 Chief Engineer: Mike Fisher
CFO: Randi Fisher
Power: Track
The Nebraska Oregon Railroad is a representation of the 1930s. At one end of the above-ground layout is the town of Huskerville, Nebraska, which is a small town near Lincoln. At the other end is the small town of Bates, which was a mill town at the end of the Sumpter Valley Railroad in Eastern Oregon. The name of the railroad was picked as these two places meant something to the owners. Mike was born in Nebraska, and Randi was born and raised in Eastern Oregon.
This line was started in 2016, but has been the dream of the owner for much longer than that. We wanted a layout that could show that a small intimate layout can be as much fun as a large one. A few buildings have been added and landscaping done since the tour last year.
Most all of the buildings have been designed and built by the Chief Engineer, Mike Fisher, with the landscaping projects being the design of the CFO, Randi Fisher. The railroad is still in the "construction" mode but we want visitors to see our love for the hobby of Garden Railroading. It is dedicated to having a great time and enjoying the fun the Nebraska Oregon Railroad has to offer.
Handicapped accessible.
---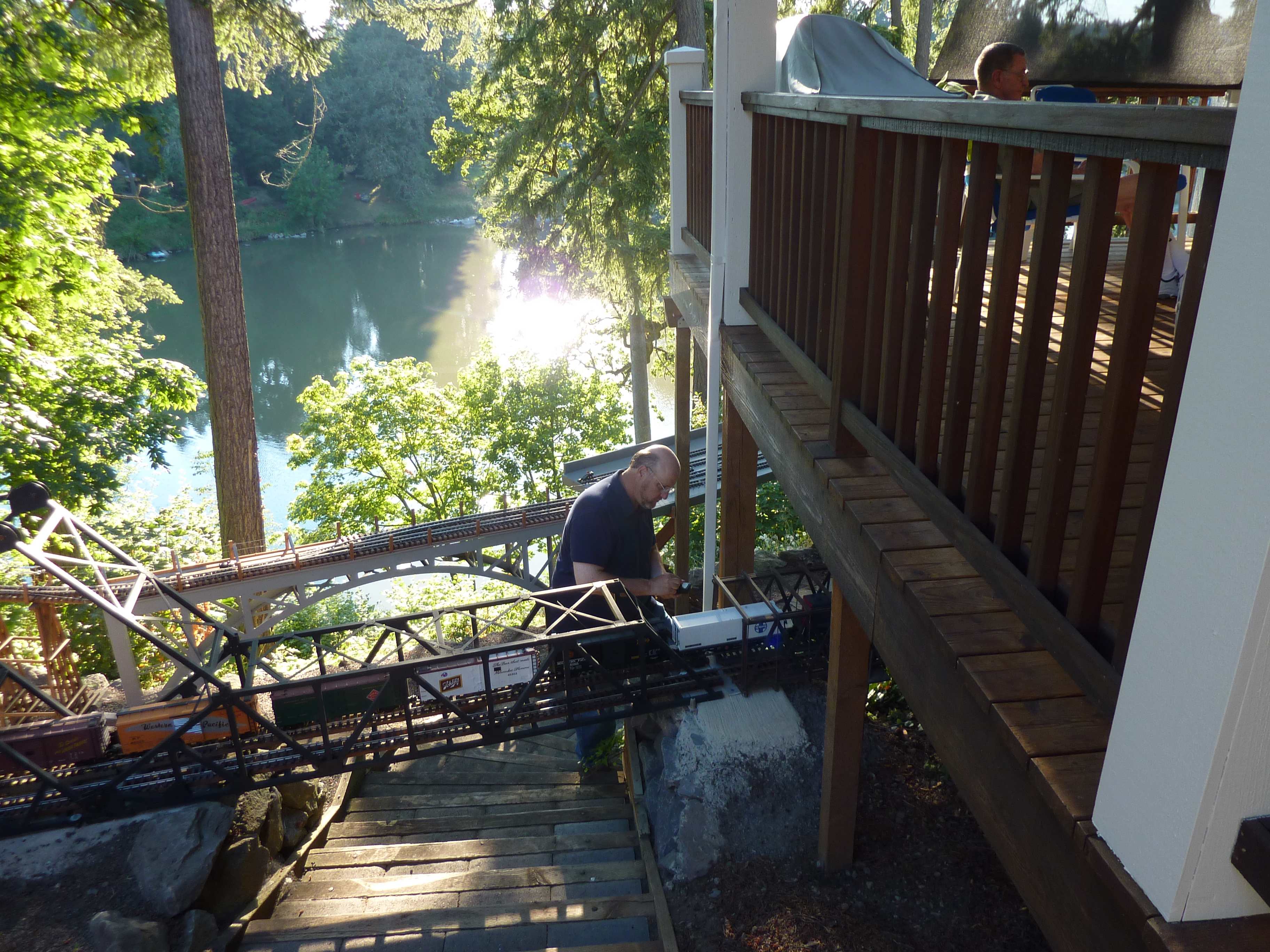 Engineers: John and Meredith Stiger
Power: Battery
Located on a steep slope overlooking a small lake located 70 feet below, the WWWI Railroad is the result of the owner's determination to access the rich natural resources located at various locations on the slope. A large deposit of shale suitable for the production of cement was the first project. To access this deposit and the cement plant nearby, a series of bridges and a serpentine track route was constructed. Later, a large deposit of rich ore containing silver, zinc and lead were discovered, requiring a further extension of the track. Finally, in the valley below, grain farms that formerly had to truck or wagon out the products were now accessible to WWWI lines.
A series of bridges including a functioning Bascule type drawbridge 8 feet in length and a Howe Truss Bridge some 24 feet long and a total of over 1,000 feet of track have been necessary to create this railroad. Battery-powered diesel locomotives provide motive power. Structures are mostly scratch-built from plans from Brewer and others.
Not wheelchair accessible. Steep stairs could make access hazardous for those who are physically challenged.
---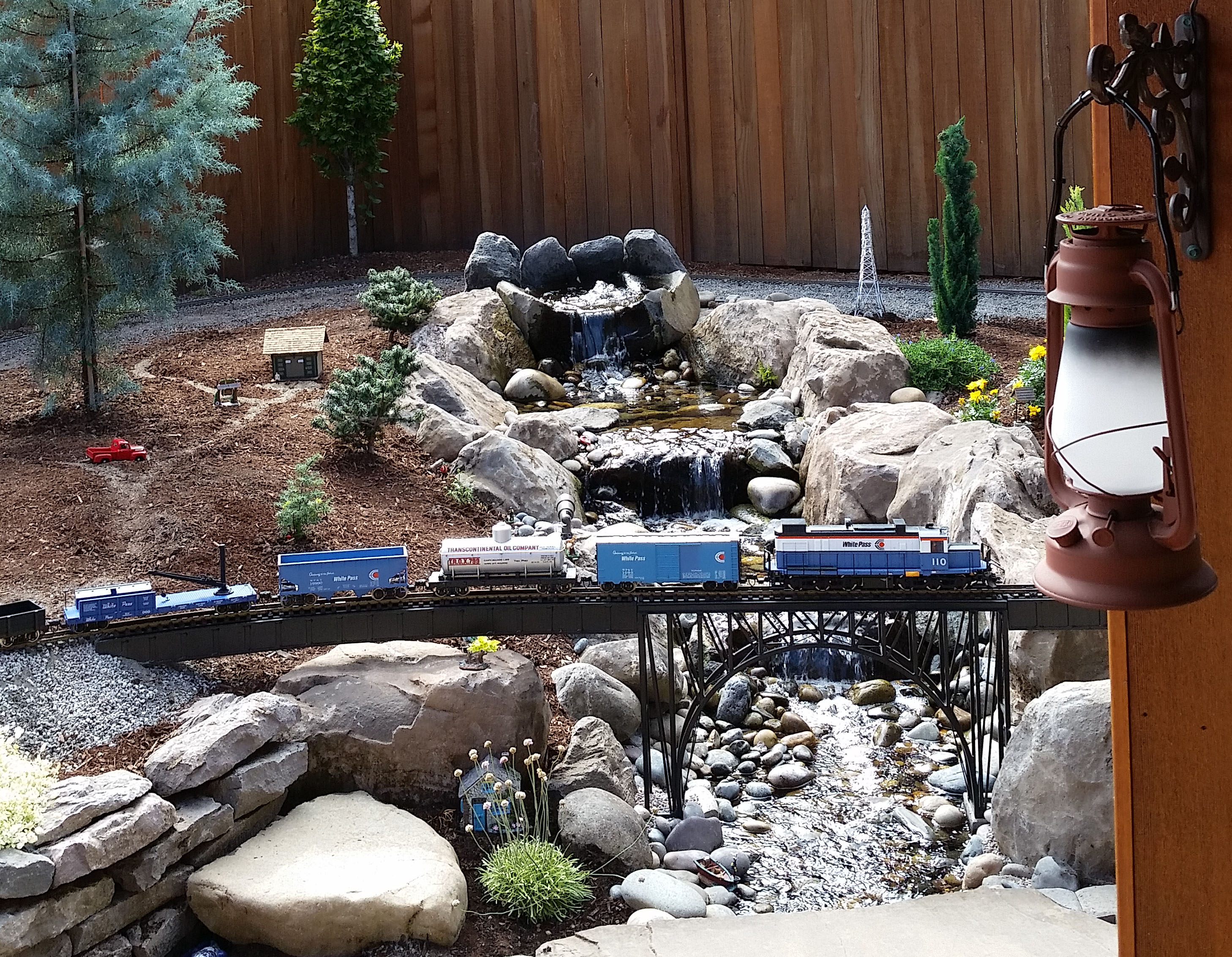 Engineers: Jim and Linda Loudon
Scale: 1:22, 1:24, 1:32
Power: Battery and Track
The Serrano Creek line was up and chugging by October 2017 with no foreseeable completion date. The diesel dominated Serrano Creek Line travels through a representation of life in early 1970's.
The ever-changing landscape features both scratch built, "unique" 1:24 scale kit structures and refurbished buildings that were "acquired" by its creators.

Highlighted features:
550 feet of code 332 rail with switches: Aristo, LGB, and USA

A continuous loop runs around three sides of our home

A water feature that begins as a bubbling spring, waterfalls, and a long bubbling brook

A dry creek bed that runs from the backyard to the front sidewalk

Three bridges (wood and steel)

Dominant power utilized is both versions (100 and 200) Locolinc

All mainline curves are 10 foot diameter (5 foot radius) with a maximum of 2% grade

Beautiful landscape with a variety of trees, shrubs, flowering plants, and ground covers
Handicapped accessible.
---