Welcome! The Rose City Garden Railway Society of Portland, Oregon promotes and practices the hobby of Garden Railroading. Whether you are a long-time hobbyist or a recent enthusiast, we welcome you to join us in planning gardens, building stock and scenery, running trains, sharing lore and expertise.
We have members with experience ranging from years spent building and operating garden railroads, to those planning their first garden and running their first trains.
You do not need to have a garden railroad or even own any garden railroad equipment to participate in our club. Joining the club is your opportunity to see and run on other club member railroads to see if you like the hobby, with no commitment other than to join and attend some club activities.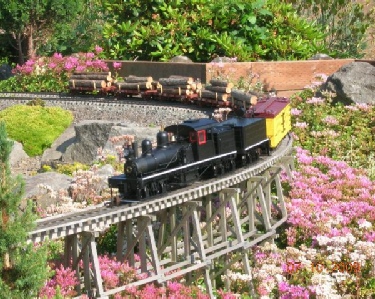 ANNUAL SUMMER TOUR
June 20
th
2015
Come see our Trains and our Gardens! 10 or more layouts open for you to visit on the Saturday before Father's Day. Click below for more information.


Click HERE to see more information on the next Members club event








"Growing Trains in the Garden"




Garden Railroading 101
A Free Clinic For Beginners
What you need to know Before You start
The clinic is open to anyone wishing to attend.
CLICK HERE for 2015 dates
Email Yardmaster@rcgrs.com
to be notified of the next session.